Burning the Tables in Las Vegas
by Ian Andersen

This is the long-awaited sequel to the author's best selling (out of print) classic, Turning the Tables on Las Vegas. With a quarter century's worth of experiences in high-stakes gambling, Andersen here forges a blueprint for success in blackjack, poker and other games of life. He addresses virtually every aspect of blackjack advantage play: game selection, longevity, tipping, employee relations, guises, disguises, false identification, credit, comps, risk, heat, dress, demeanor and even diet. Peppered with anecdotes and stories, the book takes you on a vicarious journey into the rarefied realm of the blackjack pro and shows you what it takes to be one.

Blackbelt in Blackjack, Revised
by Arnold Snyder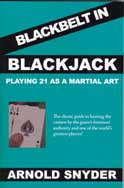 Arnold Snyder is one of blackjack's legends. This book, now back in print and revised,has become underground gambling classic. This is blackjack as a martial art, targeted for serious and professional players looking to win real money at the game. Snyder reveals tips and tricks used by the pros-shuffle tracking, team play, multiple deck camouflage techniques so that the casino can't detect that the player is using winning techniques, and much more. 21 powerful chapters include a complete course on beating blackjack: the devastating red 7 count, the hi-lo count, the zen count, the true count, and so much more.