Playboy Guide to Playing Poker at Home
by Basil Nestor

Written by poker guru Basil Nestor, the mastermind behind the Smarter Bet series and other bestselling books about gambling, and illustrated with classic Femlins (special saucy line drawings) by legendary artist LeRoy Neiman, The Playboy Guide to Playing Poker at Home is the ultimate handbook to the ultimate house game.

Smarter Bet Guide to Slots and Video Poker
by Basil Nestor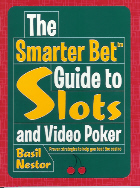 A pocket-sized book that provides a clear-cut explanation of payback comparisons, progressive jackpots and how to evaluate them, video poker strategy tables, and other mathematically derived techniques to lower the casino advantage.

Smarter Bet Guide to Blackjack
by Basil Nestor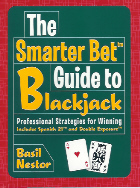 Strategy is the key to success at the blackjack table; that's a mathematical fact, and you can count on these expert, easy-to-learn tactics to make you a victor. Here's the deal: everything begins with the basic rules, and they're laid out on these pages with smart little "factoid" tips. Go through blackjack economics, which explain why cards fall the way they do, and what makes a good (and a sucker) bet. Easy-to-follow tables suggest strategies for splitting pairs and soft hands and provide dozens of other statistics and card probabilities.

Basil Nestor is the author of Playboy's Complete Guide to Casino Gambling, a new book that teaches players how to avoid sucker bets and win more when playing gambling games.
Basil is also the author of The Smarter Bet Guide to Poker, The Smarter Bet Guide to Blackjack, Playboy Guide to Playing Poker at Home, and many other books spanning the gambling world.
As a contributing editor and columnist for Casino Player magazine, nearly one million people follow Basil's articles and essays on gambling and casinos every month. Basil is not just a writer of casino game articles. He was also the writer and director of Merv Griffin's Simple Arithmetic and dozens of other award-winning gaming-oriented television programs, commercials, and documentaries.
In addition to his books and his work with Casino Player, Basil has written hundreds of articles about gambling and casinos for publications such as Playboy, Bluff, Strictly Slots, and many other magazines and news services.
Basil's website is www.smarterbet.com
Is Card Counting Legal?
A reader asks if card counting is legal. Given the fact that many people seem to be driven away from casinos when they employ this strategy, the question is a valid one. Let's read what Basil has to say about it.
Craps is About Dice
Explained are the dice, dice combinations and probabilities, the basics of how you win or lose at craps, and an introduction to the Pass and Don't Pass.