More Book Reviews
Deal Me In and Eat Professional Poker Players Alive Reviewed
There isn't a clear path by which people become professional poker players. There aren't any good courses at the local vo-tech for a person to study. The road to becoming a poker pro is inevitably difficult, circuitous, and filled with setbacks. Deal Me In is a book describing the course by which twenty top poker players became professionals.
Best Selling Poker Books of 2014
How did the new books compare to the old classics? Well, we will let the data speak for itself. Take a look at the list of the best selling poker books of 2014.
Poker Winners Are Different
There is a big difference between what's typical human behavior and what is called for to play poker at a high level. There aren't a lot of people for whom maximizing their expectation in poker games comes naturally. Poker Winners Are Different by Alan Schoonmaker examines this conundrum.

Fear and Loathing in Las Vegas
by Hunter S. Thompson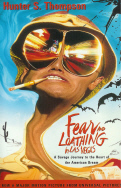 Hunter Thompson's magnum opus, Fear and Loathing in Las Vegas is a wild-eyed look at the nation disguised as a hell-raising trip to the Sodom in the American desert. Not only is this book both one of the finest and most entertaining examples of American fiction ever written, but it is also an incisive social commentary. This strange tale has lost little of its impact in the 34 years since it originally appeared in the pages of Rolling Stone magazine, and it remains one of the most insightful explorations of the true nature of Las Vegas. This is a great American novel that is truly a must-read.
"We were somewhere around Barstow on the edge of the desert when the drugs began to take hold." It is with this famous line that Hunter S. Thompson opens his most heralded work, Fear and

Nick Christenson is widely regarded as one of the best gambling book reviewers publishing today. He is a contributor for Poker Player magazine, and has published in Full-Tilt and Gambling Times. He is also the editor of the very funny 'Casino Death Watch,' which chronicles the comings and goings of casinos in Las Vegas. He is an avid poker and blackjack player. Nick's website is www.jetcafe.org/~npc/ Loathing in Las Vegas. When I heard that the great Dr. Gonzo himself had died it occurred to me that I had never gotten around to writing a review of his magnum opus. On this occasion it seems fitting that I do so.
Fear and Loathing in Las Vegas is widely considered to be the pinnacle of Thompson's writing. The book successfully combines widely disparate genres, at the same time a narrative trip report, vibrant fiction, and incisive social commentary. Thompson captures the spirit of place and time as perfectly as has Twain, Fitzgerald, Steinbeck, or any other American author.
At its most superficial level, Fear and Loathing is the chronicle of a magazine writer and his attorney traveling to Las Vegas to cover a motorcycle race and law enforcement convention. During their adventures, the two take massive amounts of mind and body altering chemicals, repeatedly discharge powerful firearms, drive much faster than is safe, and generally violate every law and social convention imaginable. The book is beautifully and sureally illustrated by Thompson collaborator Ralph Steadman adding emphasis to a tale that the author himself would call "savage and twisted".
Underneath this adrenaline-charged veneer, however, lies an insightful commentary about the nature of the United States in the early 70s. The Vietnam War was at its height, Nixon was in the White House, and the counter-culture movements of the 60s had already peaked and were beginning to realize that they were in decline. At this time an enormous vacuum had emerged in the middle of society with everyone on the fringes coasting listlessly on the inertia of the previous decade. In his book, Thompson doesn't describe this void, he defines it by riding its boundaries, making it apparent to an audience that hadn't noticed its existence.
Las Vegas has changed a great deal since 1971, and much like any place that can serve as a worthy muse, there are many facets to this remarkable city. One cannot fully understand this magnificent place, though, without being able to see it through the eyes of Hunter Thompson. He recognized earlier than most why it was that Las Vegas exemplifies the American dream, both in its glory and its imperfections. Las Vegas is alternately about magnificence and superficiality, honesty and baseness, hope and despair. All of this complexity is captured in Thompson's book.
Fear and Loathing in Las Vegas is not intended to be a pretty picture of the world, or even an accurate one. It is the literary equivalent of both a cubist and surrealist painting. We are shown not only the hidden angles of the subjects of Thompson's stories, but the insides as well, blurred through the lens of fictionalizations and the author's consumption of powerful narcotics. The goal of Thompson's style of "gonzo journalism" was not to present truth through objective reporting, but to provide a visceral experience of the subject matter by describing the author's direct involvement in the story. This was distinctly subjective, but in many ways no less a true accounting.
Thompson may be gone, but his work will continue to motivate writers for years to come. Fear and Loathing in Las Vegas is his masterwork, a startling, stark description of a nation that collectively stands confused at a crossroads, aimlessly meandering toward the future. It's an outstanding, ground breaking piece of literature, and I could not recommend it more highly.