Frugal Gambler
by Jean Scott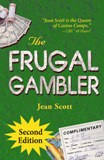 Though Jean Scott was well-known to a select few Las Vegas aficionados throughout the '90s, it wasn't until the publication of The Frugal Gambler in 1998 that she became a household name to casino players across the country. Her frequent national publicity, her long-term success in casinos around the world, and the solid low-rolling advantage-play techniques she's divulged along the way have all helped catapult The Frugal Gambler into the ranks of best-selling gambling books. The new revised edition includes a completely revamped chapter on video poker, updated coverage of getting the most out of slot clubs, recent examples of exploitable gambling promotions, and a brand new Resources section, identifying the best sources of player information available-from books to software to the Internet.

Smart Money: How The World's Best Sports Bettors Beat the Bookies Out of Millions
by Michael Konik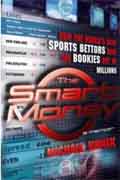 This book takes you into the world of sports betting, where real men bet million dollars on the outcome of a football game. The author got involved with this hidden world of sports betting when he interviewed of Rick "Big Daddy" Matthews for a magazine article. That interview turned into a venture that made him a rich man. It's the kind of life men dream of but don't really think exists. It does. The cast of characters is real; their names have been changed.