Craps: Take The Money and Run
by Henry Tamburin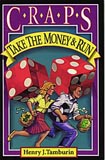 Henry Tamburin's craps book covers the basic playing rules, gaming etiquette, and the mechanics of how the game is played in casinos throughout the US. It also provides thorough explanation of all the different bets on the layout, including how to make each bet, how it wins and loses, and what the casinos edge is. Other sections cover which are the best bets on the craps table and explanation of the author's successful Increased Odds playing system that takes advantage of the high multiple odds (up to 100 times) that casinos are now offering astute players.

The Everything Craps Strategy Book
by Larry Edell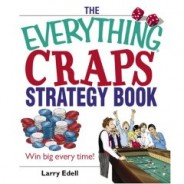 Larry Edell's Everything Craps Strategy Book is full of information for the aspiring craps player or for someone who wants to hone their craps skills. The book includes basic odds and theory overview, don't pass and don't come strategies, a discussion of betting systems, prop bet systems, and much more. Also included are sections on dice control techniques, craps tournaments, and an in-depth look at how to get complimentaries while playing craps.