Wong on Dice
by Stanford Wong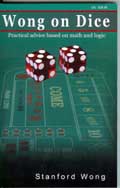 In 13 chapters, noted blackjack and casino games expert Wong explains how to get the best of the craps table. He explains how to toss the dice to legally influence them, how to bet, how to play in the casino, practice tips, and money management. The section on tossing the dice is the meat of the text, describing everything from the grip to the alignment to repetitive stress activity.

Casino Gambling : A Winner's Guide to Blackjack, Craps, Roulette, Baccarat, and Casino Poker
by Jerry Patterson

If you're planning a trip to Vegas or any other casino gambling destination and want some quick and easy-to-follow advice to give you a good shot at coming home a winner: Read Chapter 7 for blackjack advice, Chapter 13 for craps advice, Chapter 17 for roulette advice, Chapter 18 for baccarat advice or Chapter 19 for advice on the popular variations of casino poker.