by Howard Stutz
Las Vegas Gaming Wire
LAS VEGAS, Nevada –- New Jersey gaming authorities have reportedly found MGM Mirage joint venture partner Pansy Ho, who has a 50 percent stake in the MGM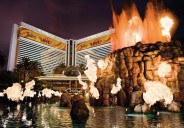 MGM Mirage in Las Vegas Grand Macau, unsuitable and the casino operator needs to "disengage itself from any business association" with the daughter of controversial Hong Kong billionaire Stanley Ho.
In a filing this morning with the Securities and Exchange Commission, MGM Mirage said the New Jersey Division of Gaming Enforcement issued a report to the New Jersey Casino Control Commission on Monday. The agency has been investigating the matter since 2005.
The report was confidential, but MGM Mirage disclosed that gaming authorities found that Ho, a Hong Kong businesswoman whose 84-year-old billionaire father has been alleged by international law enforcement authorities to have ties with Chinese organized crime triads, should not have any business relationship with MGM Mirage.
Pansy Ho, who was found suitable by Nevada gaming regulators in 2007, holds a subconcession for the $1.2 billion MGM Grand Macau, which opened in December 2007.
According to the SEC filing, MGM Mirage, which owns 50 percent of the Borgata in Atlantic City with Boyd Gaming Corp., may face a hearing by New Jersey gaming regulators on the matter.
"The New Jersey Commission has not yet taken any action with respect to the report, including whether or when a hearing should be scheduled," MGM Mirage said in its SEC filing. "The company does not believe that the report will have a material adverse effect on it."
JPMorgan gaming analyst Joe Greff told investors this morning that it was unclear how the New Jersey ruling will impact the company. The worst case scenario, he said, is the company being forced to sell its interest in either the Borgata or the MGM Grand Macau.
"We think this is a very vague statement," Greff said. "In our view, the best case scenario is nothing happens, and the company perhaps just suffers loss of face."

MGM MIRAGE
3600 Las Vegas Boulevard South
Las Vegas, NV 89109
Phone: (702) 693-7120
Fax: (702) 693-8626
Website: www.mgm-mirage.com

MGM MIRAGE is one of the world's leading gaming companies. It owns and operates 24 properties located in Nevada, Mississippi and Michigan, and has investments in four other properties in Nevada, New Jersey, Illinois and the United Kingdom. MGM MIRAGE has also announced plans to develop Project CityCenter, a multi-billion dollar mixed-use urban development project in the heart of Las Vegas, and has a 50 percent interest in MGM Grand Macau.