by Howard Stutz
Las Vegas Gaming Wire
LAS VEGAS, Nevada –- MGM Mirage completed its $2.6 billion corporate restructuring effort Tuesday, the same day the company announced it would be involved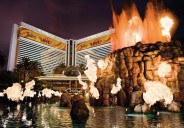 MGM Mirage in Las Vegas in a $4 billion project to build and operate smaller, nongaming versions of the Bellagio and MGM Grand in Dubai.
The casino operator's restructuring plan is part of its efforts to help dig the company out from under its debt and leveraging issues.
The Strip casino giant sold 164.7 million shares of the company's stock at $7 a share on the New York Stock Exchange to raise $1.1 billion. The stock sale reflected 143 million shares placed on the open market and more than 21 million shares purchased by the company's underwriters.
Also, MGM Mirage raised $1.5 billion in the private sale of senior secured notes in which the Bellagio and The Mirage were used as collateral.
MGM Mirage Chairman and Chief Executive Officer Jim Murren said the deal marked a new beginning for the company, which operates nine Strip resorts and is building the $8.5 billion CityCenter development.
"We are now well-positioned to continue the work needed to achieve recovery and improve profitability," Murren said.
Before the deal, MGM Mirage had approximately 276.6 million shares outstanding.
MGM Mirage closed Tuesday at $8.34, down 40 cents, or 4.58 percent, on the New York Stock Exchange.
A stock offering by MGM Mirage reduced the majority stake of Los Angeles billionaire Kirk Kerkorian to 39 percent of the company, down from his previous controlling stake of 53.8 percent.
Through his privately held Tracinda Corp., Kerkorian, 91, who founded MGM Mirage and is a member of the company's board of directors, agreed to purchase 14.3 million shares of the common stock offering at $7 a share.
Analysts said Kerkorian's reduced holdings shouldn't have any impact on MGM Mirage. He is still considered the one person who has final say in the company's direction.
"I think historically it's been very important for him to own a majority and I think it takes an extraordinary event to cause him to live with less than 50 percent," KeyBanc gaming analyst Dennis Forst told The Wall Street Journal.
Forst thought if MGM Mirage shows improved prospects, Kerkorian might try to increase his stake.
Meanwhile, in Dubai, MGM Mirage said Pearl Dubai will finance construction of a 250-room Bellagio, a 350-room MGM Grand and a 30-suite Skylofts hotel in the Persian Gulf city-state.
MGM Mirage Hospitality will manage the ventures at the Dubai Pearl, a development near the base of the man-made Palm Jumeirah island.
MGM MIRAGE
3600 Las Vegas Boulevard South
Las Vegas, NV 89109
Phone: (702) 693-7120
Fax: (702) 693-8626
Website: www.mgm-mirage.com

MGM MIRAGE is one of the world's leading gaming companies. It owns and operates 24 properties located in Nevada, Mississippi and Michigan, and has investments in four other properties in Nevada, New Jersey, Illinois and the United Kingdom. MGM MIRAGE has also announced plans to develop Project CityCenter, a multi-billion dollar mixed-use urban development project in the heart of Las Vegas, and has a 50 percent interest in MGM Grand Macau.