Online Ace -- A World Series of Poker Champion's Guide to Mastering Internet Poker
by Scott Fischman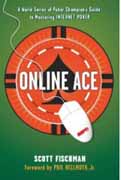 Written by a WSOP champion specifically aimed at online players, as well as those hoping to make the transition from computer games to live games. Few have made that transition as successfully as two-time World Series of Poker champion Scott Fischman. Here he shares his expert insight, money-making tips, and priceless strategies for Internet poker, giving readers instruction that can be put into practice immediately. Fischman's success on the live tournament circuit is a testament to the value of Internet poker (which he still plays for more than 10 hours a day).

Poker on the Internet
by Andrew Kinsman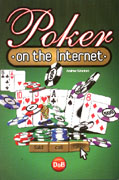 Whether you are a newcomer to online poker or already play regularly, this book will provide you with the information you need to survive in the Internet poker jungle. Topics covered include choosing an online cardroom, comparison of online and live play, collusion and cheating, improving your play online, newsgroups and more. The author is an online poker addict who has spent the last year researching this book while playing online poker. He is also an international chess master and author of several popular chess books.