Slot machine designers are a curious bunch. In what strange recesses of their minds did they come up a concept like The Nutty Squirrel? My guess is that one of them was up late at night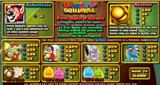 Nutty Squirrel Paytable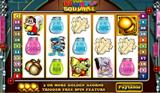 The Nutty Squirrel
watching TV and happened across the classic movie 'The Nutty Professor' with Jerry Lewis. Or maybe it was the remake with Eddie Murphy.
That's fine. There are plenty of slots based on old movies. But how did we go from a Nutty Professor to a Nutty Squirrel? That's just nuts. But in the end it was inspired madness.
The Nutty Squirrel is a new game offered at
Microgaming
casinos that combines the world of medieval mad professors with the animal kingdom to come up with a potion-mixing squirrel. Other forest denizens along for the ride are an ermine princess, a raccoon knight, a skunk warrior, and, after his transformation, a loony humpback squirrel.
Just as in real life, the key to the squirrel's (and the player's) happiness is acorns. They come in two varieties, but the ones to grab are the golden acorns. If you can find these treasures, you will be whisked to the world of free spins, where riches multiply and prizes are doubled.
You can play this new video slot at one of our favorite casinos –
Roxy Palace
.
Microgaming
MGS House
Circular Road
Douglas IM1 1Bl
Isle of Man
Phone: +44 (0) 1624 647777
Fax: +44 (0) 1624 647778
Email:
sales@microgaming.com
Website: www.microgaming.com
Microgaming released its first online casino software back in 1994. Microgaming powers many of the world's online casino sites and a leading poker network. The company's progressives have paid out over $199 million since inception. Microgaming's poker network has over 40 card rooms and one of the most aggressive tournament schedules on the web.