Winner's Guide Volume 6 - Double Double Bonus Poker
by Bob Dancer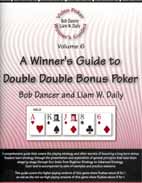 Very popular for its enhanced bonus-pay schedule, Double Double Bonus has recently become available in a 10/6 full-pay version that returns 100%. Bob Dancer's A Winner's Guide to Double Double Bonus Poker covers the full-pay version, as well as the much more common lesser-return versions of this game, with the same exhaustive coverage that has become the hallmark of the Winner's Guide series.

Video Poker--Optimum Play
by Dan Paymar

New, second edition. A major expansion of Dan's Video Poker: Precision Play. A guide to video poker machines and the strategies necessary to beat them. Concentrates on Jacks-or-Better, Deuces Wild, Jokers Wild, and variations. Aimed at the recreational player who wants to become a serious or semi-pro player. Strategies are concise and easy to learn. Second edition introduces Dan's Attractiveness Index and covers several newer games.