Online Multi-Hand Video Poker!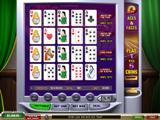 Casino Tropez has multi-hand video poker and it comes in a number of flavors. You can play 4 or 25 hands Aces & Faces, 4 hand Jacks or Better and Deuces Wild or the 10 hand Jacks or Better progressive. The best deal for multi-hand play is the 4 hand Aces & Faces which has a great 99.3% return. If multi-hand video poker is your thing, try you hand today!
Increase Your Deuces Wild Odds!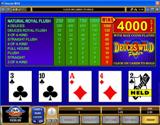 The Deuces Wild video poker game at All Slots Casino has a 96.77% return with five coins in. You can play in denominations from $.05 to $5.00 and the machine gives you hints on what to hold for obvious hands, but you'll still need your strategy cards or your rules memorized to get the biggest payback. The graphics and design are well-done.
Deuces Wild Video Poker
After the huge success of Jacks or Better video poker in the early 1980s, International Game Technology (IGT) introduced Deuces Wild to keep player interest high. They succeeded beyond their wildest dreams as Deuces Wild captured the imagination of video poker players everywhere. The game is still one of the most popular machines on the casino floor. If you've got
Jacks or Better strategy
down, you'll need to revise your thinking to win at Deuces Wild. Here are the best tips for playing all the variants of this fun video poker game.
A Simple NSU Deuces Wild Distinction
by Bob Dancer
Different readers are at different places on the video-poker-learning-curve, so this article explains when to go for straight flushes and when to go for straights when playing NSU Deuces Wild.
Video Poker: Deuces Wild Versions
by John Grochowski
Not all Deuces Wild games are created equal. Whether you're playing online or offline, you'll find some pay table quirks, and each brings its own strategy problems.
A Flush vs. Straight Paradox in Deuces Wild
by Bob Dancer
You're playing some version of Deuces Wild and your dealt a hand with no deuces that is a choice between a straight and a flush. Twelve good cards one way. Twelve good cards the other. It's a tie. Right? Maybe. Let's see what Bob Dancer has to say. . .
Winning at Deuces Wild
Here's a short primer on the popular video poker game Deuces Wild. The game is second to Jacks or Better in overall play, but with its greater amount of winning combinations it has become an enduring favorite. To play it well, you'll need to learn some new strategies, but that's half the fun of playing video poker.
A Different Version of NSU Deuces Wild - Part I of III
by Bob Dancer
The 'normal' version of NSU Deuces Wild has a 16-10-4-4-3 pay schedule and returns 99.73%. In this series of articles, Bob Dancer is going to examine and provide strategy for a different version of the game that has a 15-11-4-4-3 pay schedule and returns 99.96%.
Dollar Full Pay Deuces Wild
by Bob Dancer
Full Pay Deuces Wild is a great game if you can get to it. The dollar version is an even rarer bird, often with teams monopolizing the action. Is it worth the trouble?
All Deuces Wild Games Are Not Created Equal
by Bob Dancer
There are over one dozen lesser deuces wild schedules out there, but knowledgeable players give them a wide berth. In this column, Bob Dancer addresses how the strategy differs between these games.
Book Reviews...