More Book Reviews
Best Selling Poker Books of 2014
How did the new books compare to the old classics? Well, we will let the data speak for itself. Take a look at the list of the best selling poker books of 2014.
Deal Me In and Eat Professional Poker Players Alive Reviewed
There isn't a clear path by which people become professional poker players. There aren't any good courses at the local vo-tech for a person to study. The road to becoming a poker pro is inevitably difficult, circuitous, and filled with setbacks. Deal Me In is a book describing the course by which twenty top poker players became professionals.
Poker Winners Are Different
There is a big difference between what's typical human behavior and what is called for to play poker at a high level. There aren't a lot of people for whom maximizing their expectation in poker games comes naturally. Poker Winners Are Different by Alan Schoonmaker examines this conundrum.

The 2013 American Casino Guide
by Steve Bourie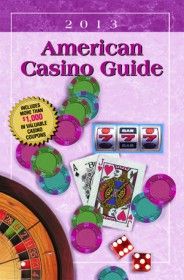 The American Casino Guide has been published annually since 1992 and is the most comprehensive book available for information on all U.S. casinos including all casino/resorts, riverboats and Indian casinos.

The new 2013 edition includes detailed information on more than 700 casinos in 40 states, plus it includes 203 coupons valued at more than $1,000! The coupons can be used now in 2012 and are valid until late December 2013.
The American Casino Guide has much to offer both the bargain hunter and player, for it offers advice on the games, illustrates though maps, phone numbers, web sites, amenities, games offered and what

Howard Schwartz, the "librarian for gamblers," is the marketing director for Gambler's Book Club in Las Vegas, a position he has held since 1979. Author of hundreds of articles on gambling, his weekly book reviews appear in numerous publications throughout the gaming industry. Howard's website is www.gamblersbook.com
you can expect state by state if you're traveling or plan to move where casino or pari mutuel gaming exists. Starting at page 345, there are coupons for match play, food and lodging discounts, freebies and discounts for rides, t-shirts, shows, car rentals, even a massage. This is a fine gift item for a friend or relative, which fits easily into a glove compartment or luggage and is good through the end of 2013
Although a majority of the coupons are for us in Nevada, states like Mississippi, Connecticut, California and New Jersey, along with a dozen or more other states are included. Articles about how to play the games, slot clubs, tournaments, and more, add value, since it can help save money via the coupons and smarter playing strategies.