More Book Reviews
Best Selling Poker Books of 2014
How did the new books compare to the old classics? Well, we will let the data speak for itself. Take a look at the list of the best selling poker books of 2014.
Deal Me In and Eat Professional Poker Players Alive Reviewed
There isn't a clear path by which people become professional poker players. There aren't any good courses at the local vo-tech for a person to study. The road to becoming a poker pro is inevitably difficult, circuitous, and filled with setbacks. Deal Me In is a book describing the course by which twenty top poker players became professionals.
Poker Winners Are Different
There is a big difference between what's typical human behavior and what is called for to play poker at a high level. There aren't a lot of people for whom maximizing their expectation in poker games comes naturally. Poker Winners Are Different by Alan Schoonmaker examines this conundrum.
Club USA Casino Has Great Slots!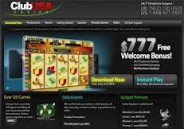 In addition to a wide selection of slots games, Club USA Casino features poker, blackjack, baccarat, keno, craps, roulette and progressives jackpots. Newly released slots include Coyote Cash, Funky Monkey, Enchanted Garden, Jackpot Cleopatra's Gold, Monster Mayhem, Realm of Riches, and Ronin Play any of the Video Slots plus Keno and Scratch Cards and receive a 100% bonus up to $777, using coupon code: BIGSLOT. And the best news is the casino accepts US players and the deposits are easy to make.

Sucker's Progress
by Herbert Asbury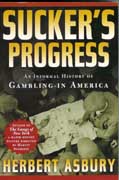 Originally published in 1938, this book looks at old-time gamesmanship in America, from riverboats to racetracks, and explores the legal, and illegal, history of gambling in pre-World War I America. The author defines the world of gambling as one of "sharpers" and "suckers" -- those who excel at the games by cheating and their victims. From notorious gambling havens like Chicago and New Orleans to lesser-known outposts in Fort Wayne, Indiana, and Cincinnati, Ohio, the book examines the gambling houses, big and smal. Also included are details of the lives of some of America's most famous gamblers, including Mike McDonald, John Morrissey, and Richard Canfield, as well as their infamous counterparts like "Canada Bill" and "Charley Black Eyes, " who made their names as grifters and con men. Also detailed are the games these men played, describing the rules and origins of a number of dice and card games.
As the gaming industry grows so does the number of people who find themselves fascinated with its history, origins, cons, scams and hustlers of yesteryear. Here are three books that the average would-be

Howard Schwartz, the "librarian for gamblers," is the marketing director for Gambler's Book Club in Las Vegas, a position he has held since 1979. Author of hundreds of articles on gambling, his weekly book reviews appear in numerous publications throughout the gaming industry. Howard's website is www.gamblersbook.com historian should appreciate. The highlights mentioned here should prove inviting to the researcher, the curious and/or the true student of the past.
Sucker's Progress (An Informal History of Gambling in America) by Herbert Asbury (493 pages, paperbound, $15.95). Asbury, who wrote The Gangs of New York, The French Quarter and The Barbary Coast, died 40 year ago, but his works have been republished and rediscovered in recent years. (Illustrated and indexed, this one was originally published in 1938.) Those interested in the once-popular game of faro will find a gold mine of material, plus those curious about the origins of craps and poker should find fascinating facts to ponder and those for or against the proliferation of lotteries and its earliest days will better understand its popularity and dangers.
The book moves into higher gear with its profiles of con men, cheaters and dubious, often famous gamblers of the 19th Century, including those who hung around riverboats, private clubs and some of the earliest honest gambling houses. The profiles include some great quotes, mottoes and incidents that spiced up the lives of high rollers and philosophers alike.
Protection: The Sealed Book by Joseph Meyer (171 pages, paperbound, $12.95). Originally published in 1911, this reprint of the classic is richly illustrated and well-indexed. It is a guidebook for protecting the then-"innocent" player against cheats, showing how cards were marked, wheels and dice fixed to favor the house; how slot machines were rigged; dealers and players who found a cheating edge in poker and other card games; how counterfeiters and mail-order con men operated.
For those fascinated the concept of "past-posting" (seen in the movie The Sting, where race results were delayed just long enough to fleece a sucker), the book explains how it all worked, along with actual old-time racing "systems" which some horse players employed. For those interested with how carnival games can be rigged, the book offers explanations and illustrations in some cases.
Overall, a book not to be overlooked , because many of the moves, the ploys, the tricks are still in action today, perhaps a bit more refined, but still producing winners and losers, depending on which side of the table you stand.
Galveston, Island of Chance by Frank Chalfant (179 pages, hardbound, $27.95) was published a decade ago, and remains a landmark work on the history of gambling—primarily illegal action in the Galveston and Houston area. Packed with color and black and white photos of the places, their business cards, some maps, pictures of the actual chips and token used, it remains one of a kind in its ability to profile the gamblers, the mob guys, politicians, the famous and infamous of an era gone by.
Also illustrated is some of the gambling paraphernalia used 50 years ago, plus souvenirs, samples of the ads and artwork to promote establishments, menus, membership cards, photos of some of entertainers who later moved to Las Vegas, the games, the bets, the conflicts and fights for territory and respect. Truly a one of a kind book by an author who cared, compiled, described and collected about the history of a very special time in Texas history.