ATLANTIC CITY - As reported by Philly.com: "As this town's 11 casinos prepare for their busiest season, each is pulling out the stops to accommodate visitors with tight budgets.
Every gambling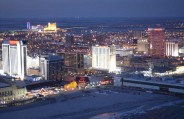 Atlantic City Skyline hall here is offering summer promotions to attract customers, such as Alexis DeJesus of Brigantine, who says he's on the hunt for competitive room rates, more activities along the Boardwalk, and additional rides at the Steel Pier for his 2-year-old daughter, Gianna.
"They need to be more competitive - at the top of their game," DeJesus, 27, said of the city's gambling palaces while he was visiting the Tropicana recently.
The economy, increased slots competition from Pennsylvania, and lower consumer discretionary spending have hurt Atlantic City's gambling revenue, resulting in a 15.7 percent year-to-date decrease compared with a year ago. Casino operators here say value is this summer's buzz word.
"Consumers, in general, right now are more mindful of value and quality," Borgata spokeswoman Noel Stevenson said. "We've noticed that guests are still seeking that sense of escapism and are looking to have some fun as long as they feel it's money well spent."
As a result, deals and packages are plentiful..."
For more details about the amazing casino deals going on in Atlantic City, visit www.philly.com/philly/travel/shoreguide/20090515_Casinos_up_the_ante_on_discount_deals.html

Tropicana Atlantic City
South Brighton Avenue and the Boardwalk
Atlantic City, NJ 08401
Phone: (609) 340-4000
Toll Free Phone: (800) THE-TROP
Website: www.tropicana.net

The Tropicana Casino and Resort has luxury ocean view hotel rooms and hotel suites, round-the-clock casino gaming, gourmet dining, live entertainment, the nearby beach and Boardwalk, and a wealth of shopping.