by Howard Stutz
Las Vegas Gaming Wire
LAS VEGAS, Nevada -- For the first time since August, gaming stocks collectively took a positive turn.
The 10 casino operators and slot machine manufacturers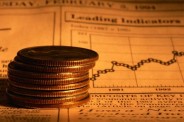 charted by Las Vegas-based financial consultant Applied Analysis all showed double-digit increases in their average daily stock prices over their March totals.
Several of the major casino operators will be reporting first-quarter earnings soon. Wynn Resorts, Las Vegas Sands Corp. and Boyd Gaming Corp. are scheduled to report next week. Brian Gordon, a partner in Applied Analysis, said results from January through March won't really interest investors.
"What everyone is going to be looking at is the insight offered looking forward, rather than historical information," Gordon said.
The question, he said, is if April was just a one-month uptick, or is the gaming sector correcting itself?
"We've seen several stock prices at all-time lows and we're going to see if this modest bounce continues," Gordon said.
Las Vegas Sands had the largest jump in its average daily stock price, more than 131 percent over March. The average daily share price of MGM Mirage jumped 97 percent. The company reached an agreement on Wednesday to rescue CityCenter on a financing package that will fully fund and complete the $8.5 billion project.
Regional casino operators Ameristar Casinos (up 26 percent), Pinnacle Entertainment (up 44 percent increase) and Penn National Gaming (up 33 percent) all beat Wall Street estimates when they reported earnings in the past two weeks.
The last time gaming stocks had a positive collective showing was in August, when nine of the 10 companies tracked by Applied Analysis showed increases.
"While the latest stock performances provide some welcome relief, concerns about the travel industry remain as national consumers' intent to vacation reached an all-time low in April and the unknown impact of the swine flu, if any, remains on the radar," Gordon wrote in his report.
Despite the positive numbers in April, gaming stocks are still down in value from 16 percent to 93 percent compared with their prices in April 2008.
"Investors are struggling to make sense of the market fundamentals," Gordon said.
The Applied Analysis Gaming Index grew 30 points in April to 219.55, the first time the index has shown an increase since December.