by Howard Stutz
Las Vegas Gaming Wire
LAS VEGAS, Nevada -- Pinnacle Entertainment might close its Reno-area casino unless the property starts turning a profit.
During the company's first-quarter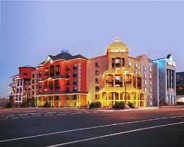 earnings conference call Friday, Pinnacle Chairman and Chief Executive Officer Dan Lee, in response to a question about a quarterly loss at Boomtown Reno, said he would rather close the property than lose money on an annual basis.
Boomtown Reno is the only Nevada casino that Las Vegas-based Pinnacle operates.
"I don't want to close it," Lee said of the 318-room Western-themed hotel casino. "It's a nice hotel, two-thirds of the rooms have been recently refurbished and look pretty nice. We are right off Interstate 80 right at the state line. It's not logical to me that this thing should lose money before capital costs."
Lee said Boomtown Reno lost $4 million in 2008. Revenues in the first quarter were down almost 29 percent. The property includes a Cabela's sporting goods store, a service station and an RV park.
Pinnacle, which operates regional casinos in the south and Midwest, reported a net income of 2 cents a share in the quarter and increased revenues by almost 5 percent.
The company is carried by its flagship L'Auberge du Lac resort in Lake Charles, La., and the year-old Lumiere Place in St. Louis.
Boomtown Reno, however, has suffered because of competition from American Indian casinos in Northern California. Washoe County casinos have reported gaming revenue declines for 20 straight months.
Lee said Boomtown's management presented him with a "break even" budget for 2009.
"I would argue that the losses in Reno are not sustainable long-term because at some point we would close it," Lee said.
Morgan Joseph gaming analyst Justin Sebastiano predicted Boomtown would lose $2.9 million this year.
Lee said Boomtown's value is the 500 surrounding acres Pinnacle owns on both sides of I-80.
Shares of Pinnacle climbed 28 cents, or 2.46 percent, Monday to close at $11.68 on the New York Stock Exchange.

Boomtown Reno
Reno, NV
Phone: 1-775-345-6000
Toll Free Phone: 1-800-648-3790
Website: www.boomtownreno.com

This Reno casino/hotel combines a dynamic casino, luxurious hotel and delectable cuisine.