Club USA Casino Blackjack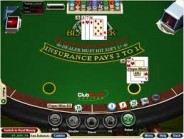 Club USA Casino Blackjack is the best bet for practicing blackjack basic strategy without stress and distractions. The game comes in both free play and real money modes and you can play up to three hands on your own table. The rules are favorable and with a house edge of only 0.71%, better than many casinos. The table minimum is $1 per hand and the maximum is $500.
Free Slot Tournaments Going on Now at Roxy Palace!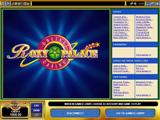 Roxy Palace has slot tournaments 24 hours a day with guaranteed freerolls and free buy-ins. There's a huge variety of types of tourneys to enjoy. Sign up now, join the fun and win some cash!
LAS VEGAS, Nevada -- As reported by the Las Vegas Sun: "A North Las Vegas casino has agreed to pay a $250,000 fine for allowing a group of alleged illegal bookmakers to lay off bets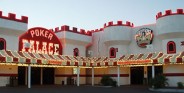 The Poker Palace in North Las Vegas at the property's race book.
Representatives of the Poker Palace on Las Vegas Boulevard North did not dispute the action approved today by the Nevada Gaming Commission.
The state Gaming Control Board said in a five-count complaint that three Poker Palace employees provided unlawful rebates on pari-mutuel wagers, unlawfully shared pari-mutuel revenue, illegally accepted wagers from messenger bettors, illegally paid winnings to persons who did not place bets and failed to adequately monitor activities on the premises.
Poker Palace owner Marvin Coleman was cited for failing to adequately supervise his employees and his casino.
In a settlement agreement signed before the commission meeting, the Poker Palace agreed to the charges in the five-count complaint.
The Control Board launched an investigation in late 2006 when sports book audits uncovered uncharacteristically high handle on racing wagers at the Poker Palace. Using a board agent working undercover, investigators discovered that the casino sought the business of two or three alleged unlicensed bookmakers by offering an off-track pari-mutuel contest that effectively guaranteed the group a rebate on its wagering activity..."

The Poker Palace
2757 Las Vegas Blvd
North Las Vegas, NV 89030
Phone: (702) 649-3799
Website: www.pokerpalace.net