by Howard Stutz
Las Vegas Gaming Wire
LAS VEGAS, Nevada –- It seemed like a strange marriage.
In December 2006, Las Vegas Sands Corp. was awarded a gaming license to build a stand-alone casino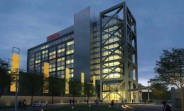 Sands latest casino in Bethlehem, PA on the site of the former Bethlehem Steel Mill in Pennsylvania's Lehigh Valley.
The mill, closed since November 1995, operated for more than 140 years and provided steel for dozens of America's most famous bridges and landmarks. During World War II, Bethlehem Steel produced steel plates for ships and tanks, structural steel for defense plants and forgings for guns, shells and aircraft engines.
The plant, revered within the community for its historical significance, seemed like an odd location for a casino.
The $743 million Sands Casino Resort Bethlehem opens today and company executives hope the project will become a model for future development at similar locations.
The casino and entertainment complex takes up just a small portion of the 124-acre site. Las Vegas Sands also preserved 22 buildings from the original site and is committed to building a museum that honors the mill's history.
"We made this site productive again," said Bob DeSalvio, the president of Sands Bethlehem, who spent the past 10 years in various executive positions with the Foxwoods Casino in Connecticut. "This is the largest brown field revitalization that has ever been accomplished."
The first phase of the project will include 3,000 slot machines and four restaurants including Emeril's Chop House, which is operated by celebrity chef Emeril Lagasse.
Sands Bethlehem hired 1,000 full-time employees, about 90 percent from the Lehigh Valley area.
The failing credit markets and the company's sagging finances caused Las Vegas Sands to halt construction of a 300-room hotel tower, 200,000 square feet of retail and 46,000 square feet of multipurpose space. No time table has been set for the second phase, which DeSalvio expects will provide another 800 jobs.
Still, he said Sands Bethlehem will be busy during Memorial Day weekend.
"We put together an aggressive media campaign to let folks know we're here," DeSalvio said. "This area has a rich tourism history and we have a tremendous location."
The project is Las Vegas Sands' first American gaming location outside of Las Vegas, where it operates The Venetian and Palazzo complex, which encompasses 7,000 hotel rooms, 200,000 square feet of gaming, 2.3 million square feet of convention and meeting space and two large retail malls. The company also operates three resorts in Macau and is building a $5 billion project in Singapore.
"This is still within the company's idea of an integrated resort complex, but a smaller version from what you would see in Las Vegas," DeSalvio said.
Sands Bethlehem was one of a dozen stand-alone casinos and racinos Pennsylvania gaming regulators approved when the state legalized some 61,000 slot machines in 2006. Table games are not allowed in Pennsylvania casinos, which have a 50 percent gaming tax rate. Sands Bethlehem, which is approved for 5,000 slot machines, will have more than a dozen electronic dealerless table games, including blackjack and three card poker, that are classified as slot machines.
DeSalvio said Sands Bethlehem benefits from a superior location. More than 1 million people live within a 25-mile radius of the property. When the radius is expanded to 75 miles, Sands Bethlehem is surrounded by 17.2 million people. The location is about an hour-and-a-half drive from New York City and an hour from Philadelphia.
The nearest competitor is the Mount Airy Casino in the Pocono Mountains, which is the only other stand-alone casino in Pennsylvania. Other projects are planned for the state's major cities of Pittsburgh and Philadelphia. Last year, Pennsylvania casinos produced $1.6 billion in gaming revenue.
"The honest answer I have is I really don't know how well we will do," said Las Vegas Sands President Michael Leven. "We've developed a very good strategy and there's a tremendous awareness of our project."
Macquarie Securities gaming analyst Joel Simkins said the location, which will also draw from communities in northern New Jersey, is a huge positive for the company in entering Pennsylvania.
"Even without many nongaming amenities initially, Sands could ultimately become one of the more successful slot facilities in the market," Simkins said. "Opening Sands Bethlehem is a key milestone for Las Vegas Sands. Initially, we do not believe it will move the needle significantly from an earnings per share perspective or overall debt deleveraging."
DeSalvio said the casino is tapping into the company's customer database, particularly in the Northeast. He said a number of Venetian and Palazzo slot machine customers from that area are receiving offers to visit Sands Bethlehem.

Las Vegas Sands Corporation
3355 Las Vegas Boulevard South
Room 1 A
Las Vegas, NV 89109
Phone: (702) 414-1000
Website: www.lasvegassands.com

Las Vegas Sands Corporation owns and operates casino resorts, including The Venetian in Las Vegas and The Sands Macao Casino in Macao. The company is also developing casino resorts and properties in Las Vegas and Macao, including The Palazzo Resort Hotel Casino and hopes to build a casino in Singapore.