by Benjamin Spillman
Las Vegas Gaming Wire
LAS VEGAS, Nevada -- Officials at the Tropicana have closed 560 rooms that apparently have renovations that don't comply with building codes.
On Thursday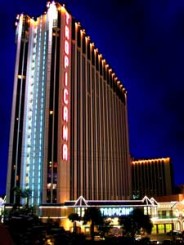 The Tropicana Las Vegas will be going under a $100 million renovation hotel managers decided to close the rooms in the Paradise Tower to deal with a discovery that plumbing renovations to the rooms are out of compliance, general manager Ron Thacker said.
"We intend to work diligently and in cooperation with local authorities to bring the rooms into compliance as soon as possible," he said.
All other rooms, casino, pool and convention facilities remain open.
Thacker described the problem as being related to plumbing fixtures, but said he didn't have enough details to elaborate.
"We are still assessing it," Thacker said.
He said building engineers and inspectors discovered the problem during a routine annual inspection on Wednesday.
The renovation in question was done in the 1990s and the compliance issue had previously gone unnoticed, Thacker said.
Guests are being relocated to other rooms that weren't affected by the renovation. If there aren't enough rooms in the 1,800-room property to accommodate all the guests, they will be moved to other resorts, Thacker said.
Thacker said midweek occupancy has been low but weekends full, meaning the property is likely to lose out on weekend revenue until the problem is resolved.
"We were looking for a pretty good this weekend, so yeah, it hurts," Thacker said.
The Tropicana Las Vegas features six restaurants, an 850-seat theater, three pools, more than 1,800 hotel rooms and 61,000 square feet of casino floor space. It opened in 1957.
It is now owned by Tropicana Entertainment of Las Vegas.
Tropicana Entertainment reached agreements with its creditors in late March on a plan that could have the struggling casino company emerge from Chapter 11 bankruptcy as early as May, a year after filing.
Tropicana Resort and Casino
3801 Las Vegas Boulevard, South
Las Vegas, NV 89109
Phone: (702) 739-2222
Toll Free Phone: (888) 826-TROP (8767)
Website: www.tropicanalv.com

The Tropicana Resort & Casino, located on the most popular corner of the Las Vegas Strip, is a first-class resort offering over 1,800 luxurious guestrooms and suites. The Tropicana is home to the legendary Paris-revue, "Folies Bergere," the longest-running production show in Las Vegas and "Xtreme Magic starring Dirk Arthur." The resort's amenities include eight fabulous restaurants, three swimming pools, a full service health spa and a 61,000 square foot casino.