by Howard Stutz
Las Vegas Gaming Wire
LAS VEGAS, Nevada -- Nine years after selling Mirage Resorts to MGM Grand Corp., Steve Wynn may be looking to buy back some of the Strip properties he originally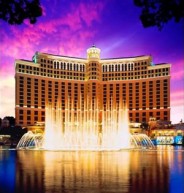 designed and built.
Wynn, now chairman of the company that owns Wynn Las Vegas and Encore, told Bloomberg News on Tuesday he would be interested in acquiring casinos owned by debt-strapped MGM Mirage if the Strip casino giant is forced to sell some of its assets to pay down debt.
"I'd be interested, if at the right price, whether it's Bellagio or Circus Circus," Wynn told the news service after speaking at the Milken Institute's Global Conference in Beverly Hills, Calif.
However, he also emphasized that a transaction was not imminent.
"It would be inaccurate to say a deal is in the works," Wynn told Reuters News Service.
Wynn could not be reached by the Review-Journal to comment about his post-conference remarks.
At the conference, Wynn spoke in optimistic tones about Las Vegas, where gaming revenues on the Strip have declined more than 18 percent through February.
Wynn said the market has shown signs of "a bit of stabilization." Hotel occupancy at his resorts were in the 90 percent range, but visitors were still spending less while room rates were at some of their lowest levels ever.
"The booking window has gotten longer. It had shortened radically," Wynn said. "I see Las Vegas continuing to be a resort destination for the world."
Wynn told the conference business in Las Vegas would eventually pick back up, but he wasn't sure when, adding that he expects to see another decline when the March revenue numbers are released.
Wynn said the market would pick up when the national economy turns around.
"People like going to Las Vegas or Disneyland," Wynn said.
Wynn also criticized his rival casino owners for having an "irresponsible lack of attention to capital structure."
MGM Mirage operates nine Strip resorts, but is facing financial challenges on two levels; it needs to refinance $13.5 billion in long-term debt and it is trying to fund the remaining costs of the $8.7 billion CityCenter development with its feuding joint-venture partner, Dubai World.
The company faces a May 15 deadline to restructure its finances or risk defaults that may trigger bankruptcy. Meanwhile an equity payment on CityCenter is due today.
MGM Mirage has already put resorts in Detroit and Biloxi, Miss., on the market and closed a $775 million sale of Treasure Island in March.
"We continue to work with our financial partners to develop a global solution," MGM Mirage spokesman Alan Feldman said Tuesday.
Ironically, it was Wynn's empire that was in financial turmoil in 2000 when he and MGM majority shareholder Kirk Kerkorian negotiated a $6.4 billion deal for Mirage Resorts to become part of MGM Grand Corp. At the time, Mirage Resorts shares were in a free fall, and Kerkorian pounced.
In addition to Bellagio, the transaction included The Mirage, which Wynn built and opened in 1989 and was the Strip's first new resort in more than 15 years.
After the sale, Wynn took his proceeds, bought the Desert Inn, and began Wynn Resorts Ltd. Over the years, Wynn has been quoted in various publications as saying "Kirk did me a favor" by acquiring Mirage Resorts.
With the gaming industry getting hammered by the global economic crisis and several companies on the verge of filing for bankruptcy, Wynn Resorts is considered one of the more financially stable casino operators.
Last week, the company amended its credit facility to give it more borrowing flexibility. Wynn Resorts, which opened the $2.3 billion Encore in December and is adding more hotel rooms to the Wynn Macau, has about $1.3 billion in cash and $4.5 billion in long-term debt.
In March, Wynn raised $175 million in a public offering of more than 9.6 million shares of common stock. In recent financial statements, Wynn Resorts has outlined plans to repurchase as much as $1 billion in debt to reduce annual interest costs by $55 million.
MGM Mirage's financial issues and debt problems facing Harrah's Entertainment have sparked speculation that Wynn and Penn National Gaming are interested in acquiring various Strip assets.
Last week, Penn National executives said the company was interested in acquiring a Strip casino but that speculation had gone amok.
Wynn told Bloomberg he was "kicking tires" at some of the Strip's distressed properties.
Shares of Wynn closed at $36.23 on the Nasdaq National Market, down $1.25, or 3.34 percent on Tuesday.

Bellagio Resort and Casino
3600 S. Las Vegas Blvd.
Las Vegas, NV 89109