Kill Everyone
by Lee Nelson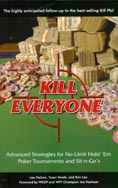 In a follow-up to the best-selling Kill Phil this book blends real-time experience, poker math, and computational horsepower to create new concepts and advanced strategies never before seen in print for multi-table tournaments, sit-n-go's, and satellites. Explains how to choose the right strategy for the right game, provides the proper tactics, and introduces new weapons into a tournament-poker-player's arsenal. These include: fear and fold equity; equilibrium plays; bubble factors; endgame strategies; optimal heads-up play and more While Kill Phil, is 90% pre-flop strategy, this book goes all the way to clearly show know how to accumulate chips early, navigate through the middle stages, and perfect your play on the bubble and at the final table.

Get the Edge at Low Limit Texas Hold'em
by Bill Burton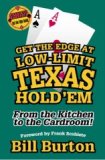 Low-Limit Texas Hold'em is the fastest-growing casino poker game. But new player often come to the poker rooms completely unprepared to play a winning game. Even so-called 'veteran' players are often long-term losers at the game because they have never taken the time to study how to play or analyze their own individual games. As author Bill Burton clearly shows in Get the Edge at Low-Limit Texas Hold'em, a savvy low-limit player can turn a profit at this game by exploiting the weaknesses of his or her opponents, and developing his or her own strengths.