Roxy Palace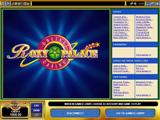 Roxy Palace features plenty of user friendly games with realistic design and crisp, exciting play. The casino has more than 100 slots including 3-reels and 5-reels with multiple paylines, as well as bonus feature slots. There are lots of video poker games. Table games include Blackjack, Roulette, Craps, Baccarat, Let Them Ride, Tri-Card Poker, and Casino Hold 'em.


Jean Claude the Animated French Tiger
If you love tigers with French accents, you should get to know Jean Claude, the mascot of Backgammonmasters.com
BackgammonMasters.com is using an original approach to promote and establish their skill game software in the online game market by introducing the #1 Player at BackgammonMasters, Jean-Claude the animated

Jean Claude is a French Tiger who plays a mean game of Backgammon.
tiger. BackgammonMasters has created this character to illustrate to a wide audience the appeal of backgammon as a skill game truly loved and played by all people, from all walks of life from around the world.
Jean Claude is BackgammonMasters' pioneering mascot who is setting a new standard in online game entertainment. Viewers win prizes for trivia questions after viewing, and are offered rewards for suggestion any script ideas used. Clips can be easily forwarded to friends who will create the viral marketing buzz that only a character like Jean-Claude is capable of generating.
"BackgammonMasters creates a new dimension in online backgammon branding in their 5 part interactive animation series titled 'Life According to Jean-Claude'." In the series we are exposed to a hilarious explanation and comparison by Jean-Claude of how to succeed at everything from playing backgammon to chopping onions, to fulfilling ones dreams and make important life choices.
In the opening clip we, find Jean-Claude, a tiger, humoristic, mafia type, dressed in 70's clothes (bell-bottoms and cream-colored shoes, a button-up shirt with a dice print and a large dollar sign chain around his neck) sitting in his trailer in the used junk car lot he manages. No, he doesn't feel pathetic or sad amidst the junk, on the contrary. He is full of street smarts obtained during his many years in the University of Life.
BackgammonMasters has maintained a high profile in the news lately not only because of Jean-Claude, they also recently launched a 3-in-1 game lobby offering games such as Backgammon, Poker and Perudo (Liar's Dice), all in one download.