Mystic Dragon Slots Cast a Spell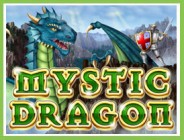 Club USA Casino's Mystic Dragon Slot is a 25 line / 5 reel video slot transporting you to a fantasy land of castles, dragons, knights and beautiful princesses. Ancient scrolls, treasure chests, and fire-belching volcanoes add to the mystery. Get ready to fight the dragon to win more spins and huge jackpots.
LONDON --
www.BackgammonMasters.com
has just released another installment in the ongoing animated series "Life According to Jean-Claude". Featuring the witty comments of Jean-Claude the animated

Jean Claude is a French Tiger who plays a mean game of Backgammon.
tiger, the series is a humorous outtake on life and success. In a thick French accent Jean-Claude recounts life stories history and advice about victory using metaphors to convey his message. Jean-Claude may not be an expert of the battle of Barbarossa but he certainly knows a lot about backgammon and how to win a battle on the board. And that's something he shares in common with BackgammonMasters.com - the fastest growing community of online backgammon players on the net. Jean-Claude's antics are getting a lot of coverage on the net, including YouTube, and have proven to be a success with online game players.
BackgammonMasters.com offers some of the best and most exciting backgammon tournaments as well as attractive promotions and prizes on the net. Jean-Claude is just the latest in a series of marketing driven promotions to help promote awareness of the
www.BackgammonMasters.com
gaming brand. Following the success of the previous Jean-Claude episode, which offered an interactive trivia competition and prize giveaway, a new episode in the Jean-Claude saga has just been released.
Backgammon Masters created the zany character Jean-Claude in order to help promote their skill-game software which now includes the option to Play poker online. The gaming community is buzzing now that several games are being offered via the main software lobby, and more and more community gamers can now play against each other in one-on-one and live tournaments.
Backgammon Masters have developed a new approach to playing games online: the all-in-one game lobby allows players to choose from a number of popular games including classics like backgammon and new favorites like Perudo, an exciting dice game played all over the world, now available for the first time online exclusively from Backgammon Masters. Also, available in May, players will also have the option to play Blackjack as well. Backgammon Masters gaming platform is unique because it offers several well-loved Games all via the streamlined gaming lobby.
You can watch the latest episode of the Jean-Claude animated series on: