Who is Erica Schoenberg? Well if good looks and great poker playing combined is a turn-on, the lady's got in spades. The glamorous Schoenberg, poker's newest Queen of the cards and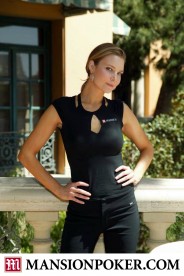 Erica Schoenberg had the third best showing for a woman at the WSOP 2007. lady of the "MANSION" proves that brains, beauty and bold poker play can co-exist in the one perfect package.
Schoenberg has just inked a parternship with MansionPoker.com following her standout 16th place finish at this year's 4th Annual Five Star World Poker Classic at the Bellagio in Las Vegas, where she pocketed over US$100,000. Erica's gritty performance clearly demonstrates her adaptability to the nuances of tournament Texas Hold'em.
Tagged the "Poker Babe" by her growing legion of fans, Erica has shown her hand as a formidable poker force in a game that is traditionally dominated by men. She is enjoying a growing reputation for her tight-aggressive yet ever-evolving style of play, and it is only a matter of time before Erica notches her first major win at the felt.
The first handpicked player to be sponsored by MANSION, Erica comes to the table with a wealth of experience playing cards competitively from a young age.
The 28 year-old Erica cites childhood memories of wagering with family members as the origins of her fledgling gambling career, when she would bet for pocket money, or as an ingenious means to duck boring household chores. Her win rate was impressive.
Raised in Akron Ohio, a teenage Erica won her hometown county math championship, demonstrating an affinity for numbers and logic; she harnessed this natural talent throughout her high school and college careers, honing her skills across a variety of card games. It was during this time that her thrill of the win was born.
A former professional Blackjack player, who was trained by the infamous MIT Blackjack outfit, Erica's success at the poker table has been a natural progression, and Poker is definitely her new game of choice.
In 2006, there will be little down time for the "Poker Babe" as she undertakes her role as MansionPoker.com's newest roving Poker ambassador. Expect to find her in the thick of the action, amassing chips and taking down pots, while lending her unmistakable class and style to the poker landscape.
When she does find a moment away from the table, the thrill-seeking Erica loves to unwind playing beach volleyball, watching college hoops and following the explosive sport of Ultimate Fighting. Erica also enjoys the more indulgent pleasures of retail therapy, and relaxes by walking her two beloved dogs, which she shares her home with in Las Vegas.
Also look for Erica in the soon to be televised Ultimate Blackjack Tour, playing alongside the likes of Devilfish David Ulliott, Phil Hellmuth, Johnny Chan, Annie Duke, Clonie Gowen, and many more.