Other Software Reviews
Frugal Video Poker Stands Above the Pack
It isn't often that you get more than you expected from a software program, but Frugal Video Poker proves the exception to the rule. The software provides nearly everything you'll need to improve your video poker if you're a beginner or an expert.
A Wizard at Video Poker Wizard
Cap Richards, the wizard behind the Video Poker Wizard software got his start like most of us who have played VP for several years: Stanford Wong's Professional Video Poker book gave him the dream to shoot for and with tools such as Cap's Video Poker Wizard software, it's now easier than ever to fulfill that dream of Royal Flushes.
Video Poker Software Sniffs out the Best Video Poker Strategy
Video Poker Coach and Video Poker Hunt are both smart program that can help novice players improve their video poker games painlessly. Choose Video Poker Coach if you are looking for a complete set of games or choose Video Poker Hunt if your needs are more limited. Either way, you'll pick up some valuable habits.

BVS Video Poker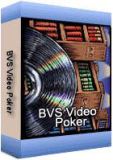 BVS Video Poker 1.4 is a well-engineered and enjoyable software package that simulates video poker gambling machines. It features the most commonly found machines in casinos: Jacks or Better, Deuces Wild, Joker Poker, and along with many variations. Over 40 games are provided. BVS Video Poker trains you how to use the best long-term strategies when playing video poker by alerting you when you make a mistake. You can also analyze any hand to find the best choice. The software has plenty of features and is reasonably priced.

BVS Video Poker
You can download the latest version of the BVS Video Poker training software, find product news, and read testimonials from satisfied customers at the BVS Video Poker website. BVS also produces excellent solitare software that is available for download.
Learning the best video poker strategy can be daunting when the manufacturers seem to release a new game every other month. Just when you have a handle on one game, another one comes out that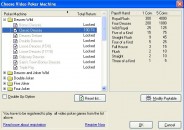 BVS Video Poker game select screen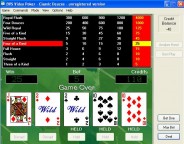 BVS Video Poker playing screen makes you second-guess your play. That's why it's recommend that you try your moves on video poker training software before you play on the live machines.
ReadyBetGo recently tested BVS Video Poker and found it a very good package that can help you learn how to play video poker at a good price. The software covers 40 video poker games so you can start with the classics like Jacks or Better and Deuces Wild, or hone your skills with the latest variations. You can even create new games and pay tables if you want to expand the list.
Playing Environment
Let's start with the playing environment, because that's the first thing you may want to set up. You have complete control of many aspects including background color, card backs, sounds, denominations and more. This allows you to set up the atmosphere in a way that suits your personality or mood.
Game Selection
The demo version of the software comes with two game types unlocked, 9/6 Jacks or Better and Classic Deuces Wild. Each game shows you the expected payback for that machine. You can practice as much as you want with these to games before having to register. However, if you want to unlock the other 37 games, you need to register the program. Here is a list of the games available once the program is unlocked.
| | | |
| --- | --- | --- |
| Aces and Eights | Aces and Jacks | All American Poker |
| Bonus Deuces | Bonus Poker | Bonus Poker Deluxe |
| Classic Deuces | Deuces Deluxe | Deuces Joker |
| Double Bonus Jackpot | Double Bonus Plus Poker | Double Deuces |
| Double Double Jackpot | Double Joker Poker 8/5 | Double Joker Poker 9/5 |
| Double Bonus Poker | Double Double Bonus Poker | Five Joker Poker |
| Four Joker Poker | Jacks or Better (8/5) | Jacks or Better (9/5) |
| Joker Wild - Kings or Better | Joker Wild - Two Aces and Better | Joker Wild - Two Pairs and Better |
| Kings or Better | Loose Deuces 15/8 | Loose Deuces 17/10 |
| Nevada Bonus Poker | Odyssey Deuces | Power House Poker |
| Sam's Town Bonus Deuces | Seven Wild Poker | Super Aces 7/5 |
| Super Aces 8/5 | Tens or Better | Triple Double Bonus 9/6 |
| Triple Double Bonus 9/7 | Triple Pay | |
The program also gives you the option to change pay tables and add new game types. However, you won't be able to add new winning combinations. You are limited to modifying pay tables on existing game types.
Play modes
BVS Video Poker offers three play modes: Normal, Auto-hold, and Auto-play. The Normal mode is what you'll want to use if you're trying to memorize the best strategy for each game. You'll also need to check the Show Warnings option to be reminded when you've made a mistake. If that happens a pop-up message alerts you that you've made an error and shows you the 'error of your ways.' The error can be minor, moderate, or major. These categories are determined by how big a percentage difference there is between your play and the optimal play. The program also allows you to adjust the definition of these errors by changing the percentage range.
I found the Normal mode to be quite instructive in showing me the best play. The Auto-hold mode is helpful if you want a quick review to test your knowledge. Using auto-play when you are in auto-hold mode saves you some keystrokes by automatically dealing the second hand.
Statistics and Progress Reports
BVS Video Poker has a number of statistical reports that aid in understanding the best plays and graphs that show you your progress. You can view statistics either by session on a machine or your total play on that machine. The types of information include hands played, hands per hour, actual return percentage, number of errors by type (serious, moderate, minor), accuracy percentage and expected return. If your play deviates from optimal strategy, you will also be shown the cost of those errors based on the amount bet.
These statistics can be reset at any time.
Progress Reports
The software provides a number graphs to help gauge your play. There's a win-loss chart that shows actual results over the number hands played. The view can be switched to Expected Return accuracy, which shows how accurate your play was over the number of hands played. Also available is the Cost of Errors view, which shows the how many credits were lost due to inaccurate play versus perfect play. These charts can be viewed using different time periods including session, daily, weekly, last 30 days and all time.
Hand Analysis
If you need to do analysis on how to play a particular hand, BVS Software allows you to manually enter the cards and shows you the expected return for all of hand possibilities. This feature is especially useful if you are curious about the best play on a particular hand combination and you don't want to wait for that combination to show up. The card choices are based on what game (Deuces Wild, Jacks or Better, etc.) you are playing at the time.
Summary
Overall, I found BVS Video Poker to be an excellent video poker training software package. It has a wide variety of features that should help any player improve his or her game. Although no strategy tables are provided, using the software over time will imprint the best plays for your favorite games. The package is also reasonably priced. Try out the demo to get a feel for what it can do.