The Undeniable Truth About Video Poker
by Rob Singer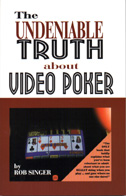 The author has been playing and losing at video poker for more than a decade and that it wasn't until he realized that expert play and expert strategy didn't apply to him. Nor, he believes, does it apply to most people who play video poker. His contention is that since there is no true definition of long-term as far as profitability is concerned, the player must focus on a short term, and adjust not only his playing strategy but his bankroll and expectation. Here he explains how he pulled himself out of the category of "loser" and elevated himself to such a winning status that he now profits virtually every time he sets out to play.

The Video Poker Answer Book
by John Grochowski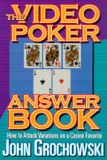 Originally published in 2000 with a second printing in 2004, The Video Poker Answer Book has plenty of fun facts about the rise of video poker -- and lots and lots of strategy advice. Unique among video poker books, The Video Poker Answer Book focuses on how strategy changes with the different pay tables we see in casinos.