Video Poker Edge
by Linda Boyd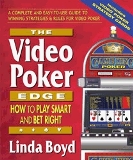 The Video Poker Edge begins by explaining the basics of video poker. It then presents sound mathematical strategies tailored to each game's specific probability. In addition to sharing groundbreaking information on the latest technological devices--including controversial video lottery terminals--Boyd reveals which casinos have machines with the best payback percentages. Throughout the book, full-color illustrations clarify the recommended tactics for various card hands. As an added bonus, the author has included handy strategy cards with valuable tips. These cards can be removed from the book and taken along to the casino for reference during play.

Winner's Guide Volume 3: Full Pay Deuces Wild
by Bob Dancer

From the authors of the best-selling video poker strategy cards, the Video Poker Winner's Guides cover both strategy and non-strategy aspects of play that are important for winning. Choose among four levels of strategy, via the presentation and explanation of basic principles. Strategies for full-pay as well as the more widely available non-full-pay versions are covered. These reports present the most complete and accurate strategies available for these games.