Other Software Reviews
Frugal Video Poker Stands Above the Pack
It isn't often that you get more than you expected from a software program, but Frugal Video Poker proves the exception to the rule. The software provides nearly everything you'll need to improve your video poker if you're a beginner or an expert.
A Wizard at Video Poker Wizard
Cap Richards, the wizard behind the Video Poker Wizard software got his start like most of us who have played VP for several years: Stanford Wong's Professional Video Poker book gave him the dream to shoot for and with tools such as Cap's Video Poker Wizard software, it's now easier than ever to fulfill that dream of Royal Flushes.
BVS Video Poker Excellent Training Software
ReadyBetGo recently tested the BVS Video Poker training software and found it a very good package that can help you learn how to play video poker at a good price. The software covers 40 video poker games so you can start with the classics like Jacks or Better and Deuces Wild, or hone your skills with the latest variations.

Video Poker Coach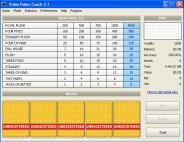 Video Poker Coach is a shareware program that simualtes most video poker variations on the market today. The software supports over 30 video poker games, has both training and real play mode, give statistical reports for errors and progress, and allows users to replay the hands where errors were made. With a clean design and an easy-to-use interface, Video Poker Coach is a good buy.

Video Poker Hunt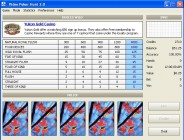 Video Poker Hunt is a freeware program designed for novice video poker players. It offers eight variations of video poker in a simple, but powerful interface. Jacks or Better, Deuces Wild, Bonus Poker and five other games are covered. The program features configurable card images, statistics, and more.
Video poker software simulators are a great help to those players who want to get the bugs out their games before hitting the real machines. There's nothing more frustrating than second guessing your play when your money's at stake.
ReadyBetGo has come across two programs that can help you in your quest to improve your play or learn new video poker games. Video Poker Coach and Video Poker Hunt are both built from the same underlying software and differ only in the scope of the games they cover. Video Poker Coach has over 30 video poker variations built into its system and gives you the ability to add new pay-tables. Video Poker Hunt covers nine popular games including Jacks or Better, Deuces Wild, Bonus Poker, Double Joker Poker, and Double Bonus Poker.
The software has a simple design, but underneath its easy interface is a strong mathematical engine determining what's the best strategy for video poker.
Being a novice at Deuces Wild, I thought I'd give this game a try first. The software initially gives you 2500 credits. After picking out my card designs front and back on the preferences menu, I started practicing.
Training mode is one of the options you have with the package. You can also play in Auto-hint mode, which shows you which cards you should hold, or in real play mode. Training mode gives you the option of seeing a hint if you need one, but doesn't show you automatically.
I decided to play 100 hands to see how I'd do. Since I'm new to Deuces Wild, it was no surprise when I made an error on my first hand, and fortunately the program let me know why. It showed me the correct strategy, the amount my error would have cost me, and what percentage the error was of my total bet. It then gave me the opportunity to keep playing with my error or to apply the correct strategy.
If you keep playing with your error, the program stores your poor choices in a error log which you can review later. It also keeps track of what this error cost you over the course of your session. In playing 100 hands I made about eight errors and learned quite a bit about Deuces Wild strategy. If you are an expert at this game, the following will be obvious, but for those who want to know a few shortcuts, here's a sampling of what I learned:
If you're dealt two pairs, only hold one. It doesn't seem to matter what value they have, i.e., 10s versus 3s.
Draw to any straight, even inside, if you don't have a pair or better and if no deuces are showing. Seems crazy, but it's right.
Hold a three card royal versus keeping just the deuce.
If you have a choice between a flush (with no straight flush possibility) that includes a deuce and keeping just the deuce, keep just the deuce.
After working with the program, my error rates went down considerably. The software even has a 'Problem Hand' mode to let you replay your errors. It's amazing how stubborn the mind can be, as I played a few the wrong way again.
All of your playing can be viewed statistically with charts that show hands per hour, money won or lost, hand results (yours versus perfect strategy), hands paybacks and error effects. Some of the information is a bit cryptic, but may be of help to statistically-minded people.
Overall, the software was a benefit to my game, and helped me learn some new tricks when it comes to video poker. It has a clean design with easily readable results. It is also has thorough statistics and clearly shows players the affects of their play. I would definitely recommend using the program for novices who want to prepare themselves before hitting the real world of video poker. The only drawback is that there isn't a complete strategy table for each game, so you may need to play quite a few hands before you've got the best plays in every situation mastered.
The Video Poker Hunt software is free and comes with a link embedded to an online casino. Seems like smart marketing for the software developer and a good deal for the video poker player looking to improve.
Video Poker Coach software offers quite a few more game types and gives you the ablity to add paytables. It can be purchased for $29.95.