LAS VEGAS, NV - As reported by USA Today: "Kent Senter, fighting blood cancer, wishes he had finished in the money at the World Series of Poker. But he calls just getting to play in the Las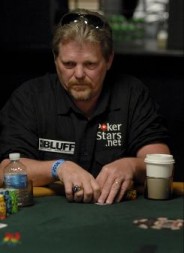 Kent Senter, battling blood cancer, playing at the WSOP Vegas main event Vegas event a "dream come true."

Senter, 55, of Pittsburgh, got to meet top poker pros and made it to the second day of the Main Event even though he is a novice. He was interviewed by ESPN. His kids were tickled when recording artist Nelly, who also played, visited their hotel room.
"It's been unbelievable," says Senter, who says his doctors have given him six months to maybe three years to survive Multiple Myeloma. ... Now, I'll just play it by ear, take it day by day and do what the doctor says."
He traveled to Las Vegas with his wife, Patty, and two of his four children, Tyler, 16, and Kaylyn, 11.
His expenses (travel, hotel and food) and the $10,000 buy-in for the Main Event were paid for by PokerStars, an online gaming company, with an assist in arranging the backing from Bluff Magazine..."
Plaza Roble Corporate Center
San Juan
Costa Rica
PokerStars.com is a fun, safe place to play poker with people from around the world for real or play money. The site offer the most popular poker games such as Texas Hold'em, Omaha and Stud. Real money limits range from $0.01/0.02 to $100/$200. PokerStars is an official member of the World Poker Tour, and the title sponsor of the European Poker Tour (EPT) and the PokerStars Caribbean Adventure. In the fall, PokerStars hosts the world's largest online tournament, the World Championship of Online Poker (WCOOP).