PALM SPRINGS, California -- Beginning this month, Spa Resort Casino in Palm Springs is offering free lessons on the hottest poker game around: Texas Hold 'Em.
All you need is the will to learn, a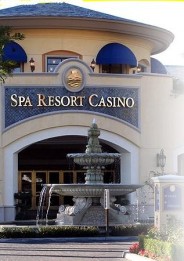 Spa Resort Casino is a haven for serious slot players. valid ID showing you are at least 21, and a Paradise Rewards card, which is free and takes only moments to get, if you don't already have one. No purchase is necessary.
Students receive free tournament chips (that have no value) for the lessons. Once they feel they're ready, they have the opportunity to play in special low-limit games so that they can practice what they've learned!
The Texas Hold 'Em classes are held every Friday, Saturday and alternating Sunday, from 10am to 11am in the Poker Room at Spa Resort Casino, located at 401 East Amado Road in Palm Springs.
These special poker instruction classes will run through August 31, 2007.
For more information, please call Spa Resort Casino at 1-888-999-1995.
Spa Resort Casino
401 East Amado Road
Palm Springs, CA
Toll Free Phone: (888) 999-1995
Website: www.sparesortcasino.com

The Spa Resort Casino features over 1,000 slot machines and 30 table games including blackjack, 3 card poker, 4 card poker and Pai Gow Poker.