Million Dollar Video Poker
by Bob Dancer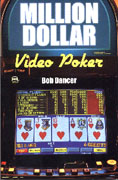 Bob Dancer is a video poker legend. His software, books, and strategy cards have become sought-after items for beginners or serious video poker players. His books provide beginners, serious players, dedicated players, tournament players and anyone even thinking of playing these addictive, sometimes lucrative machines with more angles, strategies, and stories about those who win or lose (and why) than any book published in recent years.
Read a review of Million Dollar Video Poker

Bob Dancer's Video Poker For Winners!
by Bob Dancer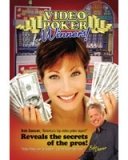 Bob Dancer, America's top video poker expert, has designed the latest and greatest video poker software to do everything but pay you money. You can play VP for Winners! as a game, use it as a tutorial, create strategies, focus on problem areas, check unusual hands, calculate bankroll requirements, figure slot club paybacks, check expected value, and much much more. Learn at home, practicing on the exact video poker screens you find in the casino, including games never before available in video poker software (Super Times Pay, Hundred Play, and Multi-Strike), then win at the casino! The program also contains video introductions and comprehensive help from Bob Dancer. Because Video Poker for Winners! corrects you when you're wrong, this software programs you to win.

Bob Dancer: The Best in Video Poker Products
Bob Dancer is the foremost expert in the field of video poker today. His website offers video poker players a great resource for information, products and access to classes and seminars. Whether it's articles about video poker strategy, ordering video poker cards, books or software or signing up for Bob's popular video poker training classes, you'll find what your looking for on his site.
I was told that at South Point there's a 25-cent Triple Play progressive, best game 8-6 (quads=130) Jacks or Better, where there is a progressive for dealt royals of $107K. I was asked whether

Bob Dancer is one of the world's foremost video poker experts. He is a regular columnist for Casino Player, Strictly Slots, and the Las Vegas Review-Journa land has written an autobiography and a novel about gambling. He provides advice for tens of thousands of casino enthusiasts looking to play video poker. Bob's website is www.bobdancer.com or not this was a good game.
No it's not.
It's a GREAT game. However a very high percentage of the payout is wrapped up in a 1-in-650,000 hands event. Playing Triple Play fast, that means that you'll hit this jackpot every 1,000 hours.
One key to understanding is "how do we find out what the bonus is worth?" To start with, we need to express the bonus in base-units, which is $3.75 in this game. And since the regular royal ($1,000 per line for three lines) has already been calculated, we need to subtract that out. So we get
$104,000 / $3.75 = 27,467 units. We get this many extra units once every 650,000 hands, so 27,467 / 650,000 = 0.0423 = 4.23%.
The base game is 98.62%, but there are also three progressives attached to the three royals, so the base game usually returns about 99%, not counting the dealt royal, with the total return about 103.25%.
If you can play 650 base hands per hour ($2,437.50 coin-in), a 1% deficit (because this is a 99% game) means your average hourly loss is $24.375. Playing eight hours a day costs you about $200 on average. (More on days you don't hit a royal. Less on days you do.)
It will take you 125 days on average to be dealt the royal, which is more than four months assuming you play seven days a week, during which time you will have lost about $25 grand. If you collect the $107,000 at that time, you'll be LOTS ahead. (The net profit of $82,000 over 125 hours averages more than $650 per hour. For quarter Triple Play. Actually it would be more because the progressive will have increased over the four months you've been going for it.) If someone else collects it you'll still be out $25,000. And of course the dealt royal could happen today or perhaps not hit for quite a while yet. Knowing how frequently it is hit on average tells you almost nothing about when it will be hit next.
For most quarter Triple Play players, losing $25 grand over four months would be a disaster bankroll-wise. Even if you include the $7,500 in cash back you'd receive from the casino this would still be a disaster. So these players couldn't expect to play this game forever, even if they could get a seat.
But playing this game sometimes wouldn't be a bad idea, so long as you keep your losses to manageable levels. It's 100% luck as to when the dealt royal appears, but it could happen. If you want to play Double Double Bonus or Deuces Wild on the machine, fine. The pay schedules for these games aren't quite as good as Jacks or Better on this particular bank of machines, but all 52-card games get dealt royals at the same frequency.
A $650 per hour game is enough to attract teams along with LOTS of other video poker players. I heard about this in mid-July and didn't want to add to the chaos of finding a seat by publishing the information at the time. My major goal in these columns is to teach you how to figure these things out rather than "out" great plays. Letting enough people know about a play so that there are always numerous players "hanging around" waiting for a seat is not a comfortable situation. Eventually casino managers are going to conclude that if all these players are clamoring for a seat, surely the casino is giving away too much. And they could easily lower the game to 8/5 or even lower in response. Although it would still be a game with positive expectation, the per-8-hour-day cost would go up by several hundred dollars. Players certainly would not want that.
Good luck to all.