Bob Dancer's Video Poker For Winners!
by Bob Dancer
Bob Dancer, America's top video poker expert, has designed the latest and greatest video poker software to do everything but pay you money. You can play VP for Winners! as a game, use it as a tutorial, create strategies, focus on problem areas, check unusual hands, calculate bankroll requirements, figure slot club paybacks, check expected value, and much much more. Learn at home, practicing on the exact video poker screens you find in the casino, including games never before available in video poker software (Super Times Pay, Hundred Play, and Multi-Strike), then win at the casino! The program also contains video introductions and comprehensive help from Bob Dancer. Because Video Poker for Winners! corrects you when you're wrong, this software programs you to win.
Great Video Poker at Club USA Casino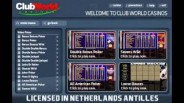 Club USA Casino offers a huge variety of video poker machines in a range of denominations. There over 14 different video poker games including Deuces Wild, All American Poker, Jacks or Better, Joker Poker and more. Many are available in multihand video poker format. Coin-in choices range from $.05 to $5.00 on single hand machines and $.01 to $1.00 on multi-hand machines.

Bob Dancer: The Best in Video Poker Products
Bob Dancer is the foremost expert in the field of video poker today. His website offers video poker players a great resource for information, products and access to classes and seminars. Whether it's articles about video poker strategy, ordering video poker cards, books or software or signing up for Bob's popular video poker training classes, you'll find what your looking for on his site.
Wizard of Odds - Video Poker Section
The Wizard of Odds, aka Michael Shackleford, is considered one of the best probability experts in the field of gambling. His website provides statistics and strategy for nearly all the casino games played today. His section on video poker is excellent and features reviews and paytables for most of the machines on the market. There is a complete strategy section covering Jacks or Better, Full Pay Deuces, and Not So Ugly Deuces. You'll also find a video poker quiz and practice/play video poker games.
vpFREE Video Poker Hall of Fame
The leading lights of video poker are given their due at vpFREE's Video Poker Hall of Fame. Two of our favorite authors, Bob Dancer and Jean Scott, are recognized along with other notable contributors to the world of video poker. To check out the who's who of video poker see vpFREE's Video Poker Hall of Fame.
Video Poker Player
The home of Skip Hughes' Video Poker Player. The website offers free sample issues, a complete index of all articles going back to April 1999, and ordering information.
Video Poker Strategy for Jacks or Better Machines

Although a video poker machine may look like a slot machine, there's a huge difference. Video poker is a game of skill in which the player has an influence on the win or lose outcome. Luck plays a part in which cards are dealt, but the ones you keep and the ones you throw away are very important to your overall chance of winning.
For each version of video poker machine out in casinos or online, there is an optimal strategy for playing video poker. The good news is that computer wizards have figured out the best strategy by calculating the expected value of each hand. The bad news is that for a 52 card deck there are 134,459 unique poker hands and potential decisions to be made, and that's way too many to try to memorize. With that many possible outcomes, it comes down to more of an art than a science to distill the most accurate rules and strategy. There isn't always total agreement on the best plays, but what we present below is a combination of three popular systems. We'll use a Jacks or Better 9/6 machine for this example.
One term that might need explaining is the idea of a gap. This term was first introduced by Jeff Lotspiech on his video poker pages in 1995. Here's how he described this concept in the original article:
"Now would be as good a time as any to discuss how to count gaps in three-card straight flushes. These hands are a bit of a dilemma, because the standard terminology of poker no longer suffices to describe the possibilities. In the table game, where the only interesting hand is a four-card straight, you have inside straights and outside straights. When you only hold three cards, there are two types of "inside" straights, and almost all video poker books use the ugly term double inside to distinguish them. Not here. I prefer to distinguish straights by the number of gaps in the cards you hold. For example, holding a 6-7-8 you have no gaps, whereas holding 6-7-9 (or 6-8-9) you have one gap, and 6-7-10 (or 6-8-10 or 6-9-10) you have two gaps."
The way to use the chart below is to look up the hand you've been dealt and make he appropriate discards. Be sure to hold the cards that you've found on the chart.
Jacks or Better 9/6 Strategy Card

Hand Dealt

Discard

Royal flush

0

Straight flush

0

4 of a kind

1

4-card royal

1

Full house

0

Flush

0

3 of a kind

2

Straight

0

4-card straight flush

1

Two pair

1

Pair of jacks or better (high pair)

3

3-card royal

2

4-card flush

1

10-J-Q-K: unsuited

1

Pair of 10s or less (low pair)

3

9-10-J-Q: unsuited

1

8-9-10-J: unsuited

1

9-J-Q suited

2

9-10-J suited

2

Four-card straight, open, no high cards

1

Three-card straight flush, two gaps, two high cards

2

J-Q-K-A: unsuited

1

2-card royal

3

Four-card straight, one gap, three high cards

1

Three-card straight flush, two gaps, one high card

2

Three-card straight flush, one gap, no high cards

2

J-Q-K: unsuited

2

Two high cards: unsuited
(when you have three don't keep the ace)

3

Two-card royal flush with 10 and no ace

3

One high card

4

Nothing (draw five cards)

5
The real trick here is to remember these rules. It will take a while to master them all, but concentrate on the ones that have always bothered you first. For example, I was never clear as to whether or not I should hold one or two if I'm dealt only two high cards (jacks or better). The chart tells me to hold two high cards.
Another good example is when you are dealt two pair. There are 21 rules below this one. That means there are 21 other possibilities you don't have to consider. If you look above two pair, there are 9 rules that would beat two pair. However, there are only two other hands you may not have considered keeping without this chart – the 4 card straight flush and a 4 card royal flush. All of the other hands above two pair are pat hands (you don't have to draw any cards) that pay more than two pair.
So the idea is to take this chart piece by piece until you have it mastered. Even if you make a mistake, the consequences aren't dire. If you have a normal ability to recognize poker hands, but don't play expert strategy, you're probably only down 1.0% over those who do. Just don't throw away a royal flush by accident. That's a mistake you'll kick yourself for.

Here at ReadyBetGo!, we have a large selection of articles by some of the best writers in the field on the different varieties of Jacks or Better poker. If you are beginner, we would suggest you start with Basil Nestor's ReadyBetGo's Guide to Video Poker. Basil will give you a thorough introduction to this entertaining game. For a more advanced perspective, we recommend Bob Dancer and his strategy articles, including his discussions on the difficulty of learning jacks or better and comparing the difference between 9/6 to 8/5 machines. John Grochowski offers great insights on Jacks or Better variations like Double Bonus Poker and Gayle Mitchell will give you the lowdown on Super Aces machines.
Which Denomination Should I Play?
by Bob Dancer
Bob Dancer analyzes the return odds for $1, $2, $5, $10, and $25 denominations on 9/6 Jacks or Better Video Poker Machines while in Mississippi.
Is This a Good Game?
by Bob Dancer
I was told that at South Point there's a 25-cent Triple Play progressive, best game 8-6 (quads=130) Jacks or Better, where there is a progressive for dealt royals of $107K. I was asked whether or not this was a good game. No it's not. It's a GREAT game and here is why.
Jacks or Better (Jacks+) Video Poker
by Gayle Mitchell
For another perspective on the classic video poker game of Jacks or Better, let's look to advice from noted gambling expert, Gayle Mitchell.
Jacks or Better Q & A
by John Grochowski
The place to start for any video poker player is Jacks or better. Take the following quiz to see if you understand this game before moving on to the more exotic models.
Get the Most Out of Double Bonus Poker
by John Grochowski
Jacks or Better strategy can be applied to many of its variants without much effect on your long-term return. To stretch your video poker gambling dollar when playing Double Bonus Poker, combine Jacks or Better strategy with the tips below.
Super Aces Video Poker Strategy
by Gayle Mitchell
Super Aces is aptly described -- the payout for Four Aces leaps to 2,000 credits. Learn how to best play this generous machine.
Even Quads Can Bring Royal Treatment
by John Grochowski
Super Aces is a great video poker game. Four aces pays 2,000 coins, with no low-card kicker needed. For a quarter player, that's a $500 payoff on a hand that occurs about once per 4,200 hands. Here's some strategy you should use when playing this game.