Break Away Slot is an adreniline rush!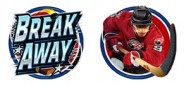 Break Away is an adrenaline-fueled hybrid style 5 reel, 243 ways to win, video slot that puts players right in to the midst of a thrilling ice hockey game. Players must take to the ice to smash, crash and compete their way to big cash prizes and sporting glory.
Multi-hand Jacks or Better Online!
For a good deal try the 9/6 multi-hand Jacks or Better video poker machine at Casino Tropez. This four-hand games has a payback of 99.5%, making it one of the highest payback machines on the Internet. In addition to the 6 coin return for a flush and the 9 coin return for a full-house, you'll get 25 for four-of-a-kind and 50 for a straight flush per coin bet.
"Now would be as good a time as any to discuss how to count gaps in three-card straight flushes. These hands are a bit of a dilemma, because the standard terminology of poker no longer suffices to describe the possibilities. In the table game, where the only interesting hand is a four-card straight, you have inside straights and outside straights. When you only hold three cards, there are two types of "inside" straights, and almost all video poker books use the ugly term double inside to distinguish them. Not here. I prefer to distinguish straights by the number of gaps in the cards you hold. For example, holding a 6-7-8 you have no gaps, whereas holding 6-7-9 (or 6-8-9) you have one gap, and 6-7-10 (or 6-8-10 or 6-9-10) you have two gaps."
The way to use the chart below is to look up the hand you've been dealt and make the appropriate discards. Be sure to hold the cards that you've found on the chart.
Jacks or Better 9/6 Strategy Card

Hand Dealt

Discard

Royal flush

0

Straight flush

0

4 of a kind

1

4-card royal

1

Full house

0

Flush

0

3 of a kind

2

Straight

0

4-card straight flush

1

Two pair

1

Pair of jacks or better (high pair)

3

3-card royal

2

4-card flush

1

10-J-Q-K: unsuited

1

Pair of 10s or less (low pair)

3

9-10-J-Q: unsuited

1

8-9-10-J: unsuited

1

9-J-Q suited

2

9-10-J suited

2

Four-card straight, open, no high cards

1

Three-card straight flush, two gaps, two high cards

2

J-Q-K-A: unsuited

1

2-card royal

3

Four-card straight, one gap, three high cards

1

Three-card straight flush, two gaps, one high card

2

Three-card straight flush, one gap, no high cards

2

J-Q-K: unsuited

2

Two high cards: unsuited (when you have three don't keep the ace)

3

Two-card royal flush with 10 and no ace

3

One high card

4

Nothing (draw five cards)

5
The real trick here is to remember these rules. It will take a while to master them all, but concentrate on the ones that have always bothered you first. For example, I was never clear as to whether or not I should hold one or two if I'm dealt only two high cards (jacks or better). The chart tells me to hold two high cards.
Another good example is when you are dealt two pair. There are 21 rules below this one. That means there are 21 other possibilities you don't have to consider. If you look above two pair, there are 9 rules that would beat two pair. However, there are only two other hands you may not have considered keeping without this chart – the 4 card straight flush and a 4 card royal flush. All of the other hands above two pair are pat hands (you don't have to draw any cards) that pay more than two pair.
So the idea is to take this chart piece by piece until you have it mastered. Even if you make a mistake, the consequences aren't dire. If you have a normal ability to recognize poker hands, but don't play expert strategy, you're probably only down 1.0% over those who do. Just don't throw away a royal flush by accident. That's a mistake you'll kick yourself for.